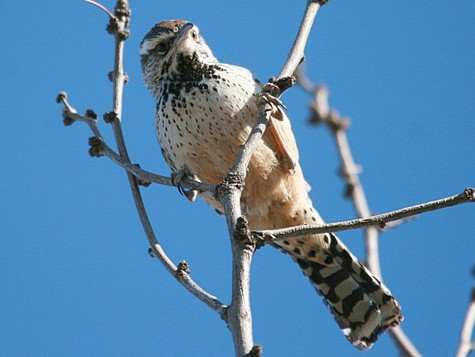 In case you hadn't noticed, spring is here! Birds that are normally shy and quiet are suddenly noisy and visible as they sit high on their perches singing to announce their territory. This Cactus Wren hopped directly above me and promptly let loose with his famous rattle. As you can see, he inflates his throat to produce the rattle call.
A few ducks are left on our ponds and some are showing off:
…while others prefer to walk on water.
The Eastern Bluebirds are house hunting:
And the turkeys have become downright gaudy!
To read more about what these birds are doing, check out the Spring Awakens Picture Gallery. There are more pictures of shy birds, show-off birds, and you can see a sequence of pictures showing the actual moment of how a female bluebird contemplates, inspects, and then chooses which box she will raise her family in.